© Wolfgang Wiesner
BLUEPRINT magazine 2006
El Vientre
Del Minotauro
<!- main frame 1 -->

<!- main frame 2 -->
The Belly of
Minotaurus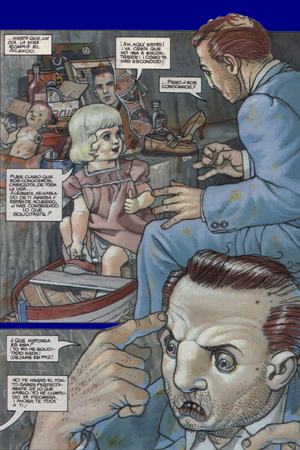 ¡ Ah, aquí estas ! ¡ Ya creía
que no iba a encontrarte !
¡ Como te has escondido !
Ah, here you are ! I came
to believe I would never
find you. How did you ma-
nage to hide ?

<!- main frame 3 -->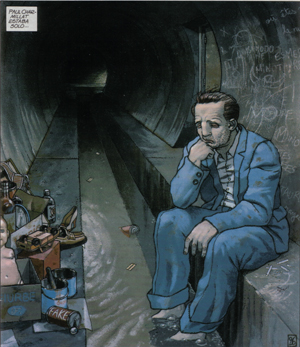 ............ Pero ¿ nos conocemos ?
..... But do we know each other ?
Pues claro que nos conocemos,
cabezota, de toda la vida ..........
Alégrate, he hablado de ti arriba
y están de acuerdo. ¿ Has con-
seguido lo que solicitaste?
Of course, we know each other,
you silly, for all of your life .......
Be happy, I have spoken about
you with those from above, and
they agreed. Did you carry out
what you applied for ?
¿ Qué historia es esa ? ¡ Yo no he
solicitado nada ! ¡ Déjame en paz !
What is that all about ? I never ap-
plied for anything ! Leave me alone !
No te hagas el tonto. Sabes perfectamente de lo que hablo.
Yo he cumplido mi promesa. ¡ Ahora te toca a ti !
Don't make a fool of yourself; you know perfectly well what
I'm talking about ! I've held my promise. Now its your turn !
Voyage to Hell
Habíamos dejado a Paul Char-
millat bajando descalzo hacia
las cloacas del metro.

We had left a barefooted Paul
Charmillat descending to the
cesspool of the subway.


Paul Charmillat estaba solo. .....
Hacia que un día, la niña rompió
el silencio.

Paul Charmillat was alone.
...... Until one day, the girl
interrupted the silence.